In today's article, we will discuss the top 5 countries to visit after the Coronavirus pandemic. Due to the coronavirus outbreak in 2019, people do not get to travel or have fun as they would do in a world where there is no pandemic, few places to travel to due to the restrictions and travel bans, few countries for summer vacation. Even though the fear of the virus won't let anyone travel in 2020 and even if, it won't be as exciting as the past.
Trying to ease the tension in the world and encourage people to be hopeful even though we are not really certain about the safest places to travel to again.  Some countries whose economy is hugely centered around tourism are creating new means of bringing people into the country amidst the pandemic because they still need to look out for the needs of their people as it is a means of livelihood to sustain themselves. Convincing people to travel may be a great task as they have to assure them of safety. Here are 5 beautiful countries to travel to after the outbreak.
New Zealand
When it comes to the handling of the Coronavirus outbreak, the New Zealand Prime Minister Jacinda Kate Laurell Ardern did a commendable job. This is among the reasons New Zealand is among our top 5 countries to visit after the coronavirus.
New Zealand is an island country in Oceania, It is a sovereign state in the south-western part of the Pacific Ocean. New Zealand has 2 large islands: the Island in the North and the South though there are other smaller islands. It is quiet and beautiful and you have so much to explore in New Zealand, when all these pressures from the pandemic which shook the world is over, New Zealand would be open for people to explore.
Austria
You can't seem to understand why Austria is part of the 5 countries to visit after the pandemic, just take a chill. Austria is the world's most tourist-friendly country.
Austria is popularly known for its castles, palaces and buildings, and other architectural works. If you intend to have a vacation in Europe, get ready your travel bags as Austria is a good place to go, you get to see the beautiful structures and places like Festung Hohensalzburg, Burg Hohenwerfen, Castle Liechtenstein and etc. These places are usually visited by tourists though now is not a time but get ready to explore Austria after the pandemic.
Namibia
If you really want to meet great and fun people, then I have got you on this one. Namibians are incredibly friendly people and Namibia is a country with really good structures and it is overwhelming peaceful. It is an exciting place to visit.
Namibia is a country on Africa's south-west coast, and has enjoyed stability and tranquility since gaining independence. Namibia is also a beautiful country to visit , explore and experience the beauty of Africa, and to have that escape and quiet you have been longing for. You want a Safari Vacation with beautiful packages and also want to explore a road trip, you should visit Namibia.
Slovenia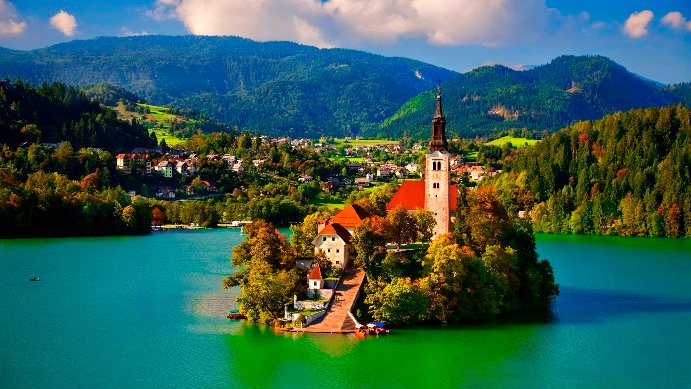 You must have heard of Bled, Ljubljana, these cities are not the only beautiful cities in Slovenia. Slovenia is included in the top 5 countries to visit after the pandemic because it has many beautiful cities that people aren't aware of and it is a great pleasure to draw the attention of tourists to this beautiful country.
Slovenia is a country in Central Europe, known for its mountains, ski resorts, lakes and cliffside mediemore castle. Slovenia is naturally endowed and has a whole lot for tourists. It is also one of the safest places to visit as the crime rate is low.
You get to explore the most stunning caves and strolling along Slovenia's riviera is really an amazing experience.Give Slovenia a try when all this is over.
Georgia
Tbilisi is Georgia's capital and it is one of the oldest cities in Europe, it has lots of historical sights for people to explore. The delicious food, hospitable people, an incredible landscape, and also vibrant cities, it is all-encompassing and it is one of the least affected in the world by coronavirus as they ensured immediate and adequate attention from the beginning of this pandemic. If you really want to try new foods, you should visit Georgia, the Narikala Fortress and medieval structures, and also the Batumi Botanical Garden. You should really explore Georgia.